Morphettville: Morphettville
30th October 2021
1100m

Fine

Nil last 24hrs, 15mm last 7 days

+9m 1200m-W/P, +7m Remainder, Sectional 612m

Soft 5
Winning Post-1800m: This section is usually a little worse than the rest of the track given horses are pulling up after the post which puts a bit more pressure on the surface. Walked just in the '5' range but rainfall since will have it on the softer side of a '5' I'd imagine.
1800m-1200m: The back straight is in good condition overall. Not much wear and couldn't see any lanes of benefit. Will be well into the '5' range after the 12mls overnight.
1200m-800m: I thought hard up against the fence would be slower ground through some additional wear and a bit of sand fill. There's no benefit in being close to the rail in races from the chute anyway so won't be surprised if they stay a horse or two off the fence. Walked a '5' yesterday, might be a bit worse today.
800m-400m: Grass has been left on the longer side and the track from the 1200m doesn't walk like ground they'll run fast time on. Around the circle I thought the jocks might start edging off the rail from the 600m mark and into lanes 3-5. It might even up as the day progresses but don't be surprised if they fan turning.
400m-Winning Post: Hard up on the rail has marginally more wear in the early part of the straight. Outside of that the track is pretty even, I did think there was more moisture in lanes 3-8 but with the overnight rainfall that could have changed. I'd like to walk the straight again on race morning as did feel there was a bit to play out with the 12mls of rain since I walked it.
Verdict: My post-meeting comments for the last five meetings (back to 21/08) have been that the fence was inferior ground on four occasions. That's including meetings with the rail in the 3m, 6m, 7m and 10m position. With the rail in the 9m position from the 1200m on Saturday you'd be inclined to think they'll get off the fence again. Walking it reaffirmed that it's the likely pattern, so I'm thinking they'll edge off the rail from the 600m but will be using plenty of the track. They may search for fresh ground as the meeting progresses as well. There's been 12mls of rain since I walked it which dampens confidence but I'd suggest barriers won't be of much importance overall. I'm expecting it to be a genuine Soft 5 and likely to stay in that range.
Track walked at 2.30pm Thursday, 28 October 2021.
| | |
| --- | --- |
| Rail details | +9m 1200m-W/P, +7m Remainder, Sectional 612m |
| Track type | Turf |
| Penetrometer | 5.67 |
| Nominations close | Mon 25 Oct 21 12:00PM ACDT |
| Weights last published | Tue 26 Oct 21 12:00AM ACDT |
| Acceptances must be declared before | Wed 27 Oct 21 9:00AM ACDT |
| Riders must be declared before | Wed 27 Oct 21 12:00PM ACDT |
Watch videos
View line photo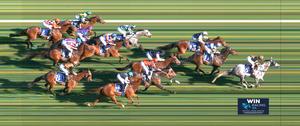 9. Grand Syndicates Riziz Sprint Series Final (Qualified Horses)
1100m, 5:32pm
Total prize pool: $102,250
1st: $55,225, 2nd: $18,225, 3rd: $8,225, 4th: $5,225, 5th: $4,225
BenchMark 76 (BM76), Handicap (Hcp), Rating Based (RTG), Apprentices can claim.
Field Limit: 14 + 4 EM
Fin
Name
Barrier
Weight
Margin
Starting price
Time

More info

1

J: Ms Kayla Crowther T: David Jolly
11
56.5
0.0
$4.40F
01:03.970

Jockey

Trainer

Barrier

11

Weight

56.5

Starting price

-

Age

5YO

Colour

grey-chestnut

Gender

Gelding

Status

Active

J WT

50.0kg

Ballot Seq

8

Prize

$160,610

Racing colours

Black, Old Gold Star, Checked Sleeves, Checked Cap

Owners

S L Aldridge, Ms H R Clarke, Ms X K Clarke, S W J Dawney, B L Hannon, Ms M Hartog, A G Martin, W J McFerran, G M Pawsey, Miss M A Reschke, P Richard, Mrs R M Tasker, D H Thompson, Ms L Wong, G Paterson, Mrs J K Campbell, Gonzot Racing, The Grand, Baroota Bandits & Stella Polaris Racing

Breeding info

DAM: Rainbird Blue
SIRE: Barbados

Career

17:3-2-2

1st up

4:1-1-2

2nd up

3:1-0-0

Track

12:1-1-1

Dist

5:0-1-1

Trk/Dst

5:0-1-1

Firm

0:0-0-0

Good

8:2-1-1

Soft

9:1-1-1

Heavy

0:0-0-0

Recent form

Video

Pos
Venue
Date
Dist
Cond
Race
Prize
Jockey
WT
Bar
RTG
Result
3rd / 10
MORP
16/10/2021
1050
Soft
BM72
4425
Ms Kayla Crowther
59
9
69
3rd / 10
MRPK
08/10/2021
1000
Good
CL3-TRL

-

Ms Kayla Crowther

-

-

-

1 Axecapital (NZ)
2 Karacasu

8th / 11
MORP
08/05/2021
1200
Soft
BM82
1225
Ms Kayla Crowther
54
5
70

1 Midnight Storm
2 Music Addition

4th / 7
MORP
10/04/2021
1200
Good
BM82
2725
Ms Kayla Crowther
55
1
70

1 Magna Bella
2 Designer Chef

8th / 15
MORP
27/03/2021
1100
Soft
MANIHI
2225
Zac Spain
54
2
70

2

J: Mitchell Aitken T: Shayne Cahill
2
54.0
0.9
$5.50
01:04.110

Jockey

Trainer

Barrier

2

Weight

54.0

Starting price

-

Age

4YO

Colour

bay or brown

Gender

Gelding

Status

Active

J WT

55.0kg

Ballot Seq

7

Prize

$21,375

Racing colours

Navy Blue, White Band, White And Black Hooped Sleeves And Striped Cap, Black Pom Pom

Owners

Mrs C A Cahill

Breeding info

DAM: Hello Boys
SIRE: Anacheeva

Career

4:1-1-0

1st up

2:1-0-0

2nd up

2:0-1-0

Track

2:0-1-0

Dist

3:1-1-0

Trk/Dst

2:0-1-0

Firm

0:0-0-0

Good

4:1-1-0

Soft

0:0-0-0

Heavy

0:0-0-0

Recent form

Video

Pos
Venue
Date
Dist
Cond
Race
Prize
Jockey
WT
Bar
RTG
Result
2nd / 12
MORP
09/10/2021
1050
Good
BM68
7875
Jake Toeroek
55
1
58

1 Spin The Reward
3 Call Me Curtis

1st / 8
BKVA
29/09/2021
1050
Good
3UP MDN-SW
10625
Mitchell Aitken
58
5

-

2 Pedirka
3 Troubled Times

3rd / 10
MORP
21/09/2021
1000
Soft
MDN-TRL

-

Shayne Cahill

-

-

-

1 Sacred Armour (NZ)
2 Johnny Thunder

4th / 6
MORP
05/12/2020
1050
Good
3Y MDN-SW
1975
Shayne Cahill
58
5

-

1 Zoushine
2 Daily Spirit

5th / 9
MRPK
25/11/2020
1250
Good
MDN-SW
900
Paul Gatt
57
8

-

1 Rocabella
2 Free Of Sin

3

J: Karl Zechner T: Peter Hardacre
8
54.0
1.1
$5
01:04.140

Jockey

Trainer

Barrier

8

Weight

54.0

Starting price

-

Age

5YO

Colour

bay

Gender

Gelding

Status

Active

Ballot Seq

6

Prize

$54,643

Racing colours

Black, Teal Lightning Bolt, White And Teal Stars Sleeves, Teal And Black Stars Cap

Owners

B J Bowman, P J Hardacre, B W James, S L Fraser, R J Clayfield, Mrs K Bronca & D J Maney

Breeding info

DAM: Bee in Her Bonnet
SIRE: Kuroshio

Career

10:1-4-2

1st up

4:1-3-0

2nd up

3:0-1-0

Track

2:0-0-0

Dist

0:0-0-0

Trk/Dst

0:0-0-0

Firm

0:0-0-0

Good

6:1-3-1

Soft

3:0-1-1

Heavy

1:0-0-0

Recent form

Video

Pos
Venue
Date
Dist
Cond
Race
Prize
Jockey
WT
Bar
RTG
Result
2nd / 14
MUBR
15/10/2021
1000
Good
BM62
3825
Paul Gatt
60
3
61

1 Valuable Witness
3 Kishstar

8th / 11
MRPK
17/07/2021
1250
Heavy
0-62
985
Ryan Hurdle
60
1
62
2nd / 14
MUBR
03/07/2021
1000
Soft
BM64
7875
Ryan Hurdle
59
9
62

1 He's A Balter
3 Wotuwant

3rd / 12
GAWL
19/12/2020
1200
Good
CL1
3025
Jake Toeroek
61
4
62

1 Munster (NZ)
2 Bubbles Mcginty

4th / 7
MORP
05/12/2020
1200
Good
BM64
2225
Barend Vorster
60
4
63

4

J: Ryan Hurdle T: Peter Hardacre
12
55.5
2.1
$6
01:04.290

Jockey

Trainer

Barrier

12

Weight

55.5

Starting price

-

Age

4YO

Colour

bay

Gender

Gelding

Status

Active

J WT

54.0kg

Ballot Seq

3

Prize

$67,350

Racing colours

Black, Teal Lightning Bolt, White And Teal Stars Sleeves, Teal And Black Stars Cap

Owners

J F Pegler, T C Ellis & D W Pegler

Breeding info

DAM: Spin the Bottle
SIRE: Reward for Effort

Career

9:3-0-1

1st up

4:1-0-1

2nd up

2:0-0-0

Track

3:2-0-0

Dist

5:3-0-1

Trk/Dst

2:2-0-0

Firm

0:0-0-0

Good

4:1-0-0

Soft

5:2-0-1

Heavy

0:0-0-0

Recent form

Video

Pos
Venue
Date
Dist
Cond
Race
Prize
Jockey
WT
Bar
RTG
Result
1st / 12
MORP
09/10/2021
1050
Good
BM68
23600
Ryan Hurdle
58
9
63

2 Hello Ladies
3 Call Me Curtis

7th / 12
MUBR
07/08/2021
1200
Soft
CG&E BM68
1075
Ryan Hurdle
58
9
64

1 Yulong Code
2 Smart Alick

5th / 9
GAWL
10/07/2021
1100
Soft
3Y BM62
1925
Ms Melissa Julius
59
8
65
1st / 11
GAWL
25/04/2021
1100
Soft
CL1
10625
Ryan Hurdle
60
11
61

2 Comiendo
3 Sensational Reward

8th / 9
MORP
10/04/2021
1200
Good
3YO BM70
1225
Ryan Hurdle
56
5
62

1 River Twain
2 Thrill Kill

5

J: Todd Pannell T: Brenton Jones
10
57.5
2.2
$41
01:04.300

Jockey

Trainer

Barrier

10

Weight

57.5

Starting price

-

Age

5YO

Colour

bay or brown

Gender

Gelding

Status

Active

J WT

53.0kg

Ballot Seq

12

Prize

$154,500

Racing colours

Red, Black Maltese Cross And Sleeves, Red Armbands

Owners

B Jones, L Fuller, Ms S Fuller, J Trinne, L Thomas, M Thomas, D Thomas, L Allen, A Hubert, P Richens, J Turci, J Allen, S Reid, D Freer, P Brook, C Bateson, A Pittaway, H Connor, L Pansini & Ms R Kidman

Breeding info

DAM: Flourishing
SIRE: Magnus

Career

28:5-1-4

1st up

5:0-0-0

2nd up

4:1-0-0

Track

5:2-0-1

Dist

15:3-1-4

Trk/Dst

5:2-0-1

Firm

0:0-0-0

Good

15:1-1-3

Soft

11:3-0-1

Heavy

1:0-0-0

Recent form

Video

Pos
Venue
Date
Dist
Cond
Race
Prize
Jockey
WT
Bar
RTG
Result
9th / 10
MORP
16/10/2021
1050
Soft
BM72
1275
Ms Teagan Voorham
58
4
72
1st / 12
MORP
15/05/2021
1050
Soft
BM72
27725
Ms Alana Kelly
55
7
68
1st / 14
MORP
08/05/2021
1100
Soft
BM82
55225
Ms Alana Kelly
51
2
59
3rd / 11
BKVA
28/04/2021
1050
Good
0 - 62
2225
Ms Alana Kelly
57
6
59

1 Great Leveller
2 Narrative Star

8th / 16
MORP
10/04/2021
1100
Good
BM60
925
Ms Alana Kelly
57
13
60

6

J: Paul Gatt T: David Jolly
9
54.0
2.7
$15
01:04.380

Jockey

Trainer

Barrier

9

Weight

54.0

Starting price

-

Age

4YO

Colour

grey-chestnut

Gender

Mare

Status

Active

J WT

53.0kg

Ballot Seq

13

Prize

$57,350

Racing colours

Bottle Green, Grey Diamond, Diamonds Sleeves, Grey Cap

Owners

R A Rorrison, Mrs W A Rorrison, D A Mullen, C G Wellington, D L Jenkin & J G Schultz

Breeding info

DAM: Gauze
SIRE: Puissance de Lune

Career

10:3-2-0

1st up

4:2-1-0

2nd up

3:0-0-0

Track

4:0-0-0

Dist

3:1-0-0

Trk/Dst

2:0-0-0

Firm

0:0-0-0

Good

8:3-2-0

Soft

2:0-0-0

Heavy

0:0-0-0

Recent form

Video

Pos
Venue
Date
Dist
Cond
Race
Prize
Jockey
WT
Bar
RTG
Result
5th / 12
MORP
09/10/2021
1050
Good
BM68
1925
Ms Kayla Crowther
56
7
64

1 Spin The Reward
2 Hello Ladies

1st / 10
MRPK
25/09/2021
1000
Good
BM60
21125
Ms Kayla Crowther
58
3
60
8th / 9
MORP
08/05/2021
1000
Soft
3Y BM62
1025
Ms Kayla Crowther
58
9
61

1 Great Leveller
2 Star Of Uma

1st / 15
MUBR
21/04/2021
1000
Good
BM54
10625
Ms Kayla Crowther
59
4
57

2 All In War
3 Avid General

7th / 9
MORP
10/04/2021
1200
Good
3YO BM70
1225
Ms Kayla Crowther
54
3
58

1 River Twain
2 Thrill Kill

7

J: Barend Vorster T: Wayne Francis & Glen Kent
7
57.5
2.8
$11
01:04.390

Jockey

Trainer

Barrier

7

Weight

57.5

Starting price

-

Age

8YO

Colour

chestnut

Gender

Gelding

Status

Active

Ballot Seq

5

Prize

$182,300

Racing colours

Black, Aqua Blue Maltese Cross, White Sleeves, Aqua Blue Cap

Owners

Finniss Equine Retreat (Mgr: Mrs J A Francis), G Kent & Mrs N Borda

Breeding info

DAM: Aadelaidee
SIRE: Husson

Career

37:7-4-8

1st up

7:1-0-1

2nd up

7:1-0-1

Track

13:3-1-3

Dist

19:3-3-5

Trk/Dst

13:3-1-3

Firm

0:0-0-0

Good

21:3-2-4

Soft

10:3-1-1

Heavy

6:1-1-3

Recent form

Video

Pos
Venue
Date
Dist
Cond
Race
Prize
Jockey
WT
Bar
RTG
Result
2nd / 10
MORP
16/10/2021
1050
Soft
BM72
9675
Ms Margaret Collett
56
1
70
9th / 9
MRPK
08/10/2021
1000
Good
OPEN-TRL

-

Ms Margaret Collett

-

-

-

1 Call Me Shamus
2 Pindaric

3rd / 7
MORP
11/09/2021
1050
Good
BM82
4425
Barend Vorster
56
6
70

1 Alleboom
2 Thompson's Reward

3rd / 12
MRPK
28/08/2021
1000
Heavy
BM82
4425
Barend Vorster
54
11
70

1 Free Of Debt
2 Alleboom

3rd / 9
MORP
31/07/2021
1050
Heavy
BM82
4425
Ms Jessica Eaton
54
1
70

1 He's A Balter
2 Free Of Debt

8

J: Ms Teagan Voorham (a2/52kg) T: Craig Curtis
4
55.5 (cd 53.5kg)
3.1
$13
01:04.450

Jockey

Trainer

Barrier

4

Weight

55.5

Starting price

-

Age

9YO

Colour

bay

Gender

Gelding

Status

Active

J WT

52.0kg

Ballot Seq

9

Prize

$235,290

Racing colours

Red, White And Royal Blue Hoops, Royal Blue Cap

Owners

Ms R K Willis, Mrs J H Lewis, J A Field, A Hutchings, Ms C Neil, P Dodds & A Cosmano

Career

47:4-13-9

1st up

9:1-3-2

2nd up

9:2-1-1

Track

18:2-2-2

Dist

12:1-2-2

Trk/Dst

10:1-2-1

Firm

1:0-1-0

Good

43:4-12-9

Soft

3:0-0-0

Heavy

0:0-0-0

Recent form

Video

Pos
Venue
Date
Dist
Cond
Race
Prize
Jockey
WT
Bar
RTG
Result
5th / 10
MRPK
23/10/2021
1250
Good
1MW-LY
1925
Gary Lo
54
4
67
3rd / 12
MORP
09/10/2021
1050
Good
BM68
3625
Ms Teagan Voorham
58
11
67

1 Spin The Reward
2 Hello Ladies

2nd / 9
MORP
18/09/2021
1050
Good
BM68
7875
Ben Price
56
4
66
5th / 9
MRPK
24/04/2021
1300
Good
BM78
2225
Will Price
52
9
66
10th / 16
MORP
10/04/2021
1100
Good
BM60
925
Jacob Opperman
61
12
67

9

J: Justin Potter T: Emma Hubbard
1
54.0
3.5
$51
01:04.510

Jockey

Trainer

Barrier

1

Weight

54.0

Starting price

-

Age

8YO

Colour

bay

Gender

Gelding

Status

Active

J WT

51.0kg

Ballot Seq

4

Prize

$67,665

Racing colours

Purple, Turquoise Lightning Bolt, Armbands And Seams Cap, Black Pom Pom

Owners

J B Lukey

Career

20:5-2-2

1st up

3:1-0-1

2nd up

3:1-0-0

Track

3:0-0-0

Dist

7:2-0-1

Trk/Dst

2:0-0-0

Firm

0:0-0-0

Good

11:4-0-1

Soft

8:1-2-0

Heavy

1:0-0-1

Recent form

Video

Pos
Venue
Date
Dist
Cond
Race
Prize
Jockey
WT
Bar
RTG
Result
1st / 7
PNLA
10/10/2021
1100
Good
BM58
8025
Justin Potter
61
5
60
4th / 10
MORP
18/09/2021
1100
Good
4UP BM60
2125
Justin Potter
60
7
60

1 All In War
2 Aston Rapova

1st / 10
PNLA
08/09/2021
1100
Good
BM54
10625
Justin Potter
61
2
56

2 Equichunk
3 Comrade Bill

10th / 12
MUBR
07/08/2021
1200
Soft
CG&E BM68
1075
Dom Tourneur
55
3
57

1 Yulong Code
2 Smart Alick

3rd / 11
MRPK
17/07/2021
1250
Heavy
0-62
3265
Dom Tourneur
58
5
57

10

J: Dom Tourneur T: G & N Searle & B Callanan
3
54.0
3.7
$51
01:04.530

Jockey

Trainer

Barrier

3

Weight

54.0

Starting price

-

Age

5YO

Colour

bay

Gender

Mare

Status

Active

J WT

53.0kg

Ballot Seq

10

Prize

$52,090

Racing colours

Green, Gold Stripes

Owners

D C Dare, W G Johnson, J Johnstone, S J Vandermyle, J Vandermyle, B Hatcher, M Mourant, R Steel, J Wighton, K J Smallwood, M A Smallwood, M J Brazel, T K Driver, S E Nunn, Mrs H R Ball, I C Gore & PJ & J Hill Thoroughbreds Pty Ltd (Mgr: P J Hill)

Breeding info

DAM: Miskish
SIRE: Deep Field

Career

17:3-3-4

1st up

5:0-1-2

2nd up

4:1-2-0

Track

2:0-1-1

Dist

8:0-3-2

Trk/Dst

2:0-1-1

Firm

0:0-0-0

Good

11:1-1-4

Soft

6:2-2-0

Heavy

0:0-0-0

Recent form

Video

Pos
Venue
Date
Dist
Cond
Race
Prize
Jockey
WT
Bar
RTG
Result
3rd / 14
MUBR
15/10/2021
1000
Good
BM62
2225
Ellis Wong
56
6
63

1 Valuable Witness
2 Harpuna

11th / 14
MUBR
07/08/2021
1000
Soft
BM60

-

Ms Sophie Logan
58
4
64
1st / 12
MUBR
14/07/2021
1000
Soft
BM62
10625
Ellis Wong
56
3
60

2 Honey Go Lightly
3 Rizski

1st / 11
MUBR
23/06/2021
1000
Soft
BM56
10625
Ellis Wong
54
4
56
6th / 11
BKVA
12/05/2021
1050
Good
BM58
825
Ms Felicity Atkinson
55
5
57

1 Magic Phantom
2 Little Town Blues

11

J: Gary Lo (a2/54kg) T: Craig Curtis
5
58.0 (cd 56.0kg)
3.9
$21
01:04.570

Jockey

Trainer

Barrier

5

Weight

58.0

Starting price

-

Age

7YO

Colour

bay

Gender

Gelding

Status

Active

J WT

54.0kg

Ballot Seq

11

Prize

$187,300

Racing colours

Pink, Royal Blue Stripes And Cap

Owners

Miss L T Trigg & Ms R K Willis

Breeding info

DAM: Minnamurra Girl
SIRE: Von Costa de Hero

Career

26:6-3-5

1st up

5:3-0-1

2nd up

5:0-2-1

Track

9:4-0-1

Dist

15:6-0-4

Trk/Dst

9:4-0-1

Firm

0:0-0-0

Good

15:4-3-1

Soft

5:1-0-2

Heavy

5:1-0-1

Recent form

Video

Pos
Venue
Date
Dist
Cond
Race
Prize
Jockey
WT
Bar
RTG
Result
6th / 9
MRPK
23/10/2021
1000
Good
BM76
1275
Ms Teagan Voorham
57
8
73

1 Thompson's Reward
2 Alleboom

7th / 9
MORP
09/10/2021
1100
Good
BM82
1275
Ms Teagan Voorham
54
9
74

1 Rock The Ring
2 Alleboom

6th / 7
MORP
11/09/2021
1050
Good
BM82
1275
Ms Teagan Voorham
56
1
75

1 Alleboom
2 Thompson's Reward

4th / 12
MRPK
28/08/2021
1000
Heavy
BM82
2850
Ms Teagan Voorham
55
9
75

1 Free Of Debt
2 Alleboom

6th / 10
GAWL
10/07/2021
1100
Soft
2MW-LY
1275
Ms Jessica Eaton
54
7
77

12

J: Jason Holder T: Trevor Montgomerie
6
55.0
4.0
$21
01:04.570

Jockey

Trainer

Barrier

6

Weight

55.0

Starting price

-

Age

7YO

Colour

bay

Gender

Mare

Status

Active

J WT

52.0kg

Ballot Seq

2

Prize

$233,445

Racing colours

Gold, Black Seams And Sleeves

Owners

M W Brown & Miss J C Pilkington

Breeding info

DAM: Ay Dee Bee
SIRE: I Am Invincible

Career

59:12-8-9

1st up

7:1-2-1

2nd up

7:3-0-0

Track

0:0-0-0

Dist

11:1-4-1

Trk/Dst

0:0-0-0

Firm

0:0-0-0

Good

41:7-5-8

Soft

15:5-2-1

Heavy

3:0-1-0

Recent form

Video

Pos
Venue
Date
Dist
Cond
Race
Prize
Jockey
WT
Bar
RTG
Result
3rd / 10
MRPK
23/10/2021
1000
Good
NMW BM70
3265
Ms Teagan Voorham
58
5
70
1st / 7
PT L
13/10/2021
1000
Soft
BM80
10625
Ms Kayla Crowther
54
2
66

2 Messerschmitt
3 Isa Secret

3rd / 10
PT L
03/10/2021
1000
Good
MARES BM62
2225
Ms Kayla Crowther
62
8
66
2nd / 6
PT L
24/09/2021
1000
Good
TRL

-

Gary Lo

-

-

-

4th / 6
DUBB
11/06/2021
1000
Heavy
OPEN BM83
1100
Ms Casey Waddell
58
3
85

1 Golden Avenger
2 Classy Rebel

13

J: Jacob Opperman (a2/54kg) T: Jamie Opperman
13
57.0 (cd 55.0kg)
4.3
$41
01:04.620

Jockey

Trainer

Barrier

13

Weight

57.0

Starting price

-

Age

6YO

Colour

bay

Gender

Gelding

Status

Active

J WT

54.5kg

Ballot Seq

16

Prize

$146,790

Racing colours

Black And White Checks, Red Sash, Sleeves And Cap

Owners

Mrs R F Opperman, Mrs A P Gaffney, W Gaffney, G S Hanel, Ms D K Bowman, B J O'brien, D J Maney, L W Capewell, Mrs N C Mitchell, S J Richards, Mrs A V Gerovasilis, S J Creek, Mrs A F Wood, M O'brien, R J Norton & C A Clogg

Breeding info

DAM: Lady Rohlon
SIRE: Moshe

Career

39:10-4-6

1st up

6:1-0-2

2nd up

5:3-0-0

Track

4:0-0-0

Dist

9:3-0-1

Trk/Dst

1:0-0-0

Firm

0:0-0-0

Good

19:7-2-1

Soft

18:3-2-4

Heavy

2:0-0-1

Recent form

Video

Pos
Venue
Date
Dist
Cond
Race
Prize
Jockey
WT
Bar
RTG
Result
6th / 10
MORP
16/10/2021
1050
Soft
BM72
1275
Jacob Opperman
58
5
71
3rd / 11
MRPK
12/06/2021
1250
Soft
BM72
4225
Jacob Opperman
57
3
71

1 Midnight Storm
2 Li'l Hank

3rd / 11
PNLA
30/05/2021
1300
Soft
BM68
1725
Jacob Opperman
61
7
72

1 Black Syrah
2 This Kid Rocks

1st / 10
WKBL
15/05/2021
1200
Good
BM64
12100
Jacob Opperman
60
3
68

2 Pill Box
3 Tycoon Ronnie

1st / 10
NARA
02/05/2021
1000
Good
BM62
8025
Angus Chung
59
4
65

2 Desert Spirit
3 Kev's Girl

-

-

T: Byron Cozamanis

-

54.0

-

-

-

Jockey

Trainer

-

Weight

54.0

Age

6YO

Colour

bay

Gender

Gelding

Status

Active

Ballot Seq

15

Prize

$197,005

Racing colours

Black, Orange Spots And Cap

Owners

Mrs S M Cozamanis & G N Peters

Breeding info

DAM: Rock of Fortune
SIRE: All Too Hard

Career

38:8-2-1

1st up

6:1-0-0

2nd up

6:1-1-0

Track

9:0-1-0

Dist

13:3-1-0

Trk/Dst

8:0-1-0

Firm

0:0-0-0

Good

30:6-1-1

Soft

8:2-1-0

Heavy

0:0-0-0

Recent form

Video

Pos
Venue
Date
Dist
Cond
Race
Prize
Jockey
WT
Bar
RTG
Result
13th / 14
MUBR
15/10/2021
1000
Good
BM62

-

Ms Lizzie Annells
59
10
66

1 Valuable Witness
2 Harpuna

11th / 12
MORP
09/10/2021
1050
Good
BM68

-

Jacob Opperman
58
5
68

1 Spin The Reward
2 Hello Ladies

4th / 11
MRPK
25/09/2021
1000
Good
BM72
2850
Jacob Opperman
56
8
68

1 Alleboom
2 Thompson's Reward

9th / 9
MORP
18/09/2021
1050
Good
BM68
1075
Jacob Opperman
59
3
69

1 Huffington
2 Call Me Curtis

6th / 6
MRPK
04/09/2021
1000
Soft
BM72
1275
Ms Stacey Metcalfe
60
1
71

1 Huffington
2 Smokin' Val